NAME: Sara
AGE: 16
CURRENTLY LIVES: A suburb of Buffalo, NY
For you, what makes a hockey player cute? His personality, cheezy I know, but if at say an autograph signing he seems like he generally enjoys meeting his fans that's always cool. If he's good with kids, nice eyes.
If you could spend the day with ONE player, who would it be and why? Wayne Primeau, because he's a really great guy...he's seems so nice. Or Steve Shields, because he to seems like a really great guy. I know, I picked two...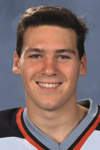 Continuing the last question, what would you guys do? :o) With Steve we'd go see a U of M football game, that would be awes. With Wayne we'd go skiing, b/c I really want to go skiing. :o).
What nationality are the players you like mostly and why? Canadian, Swedish, Finnish
Who is the cutest guy in the world? (This one does not have to be a hockey player!) Wayne Primeau is definatly a cutie.