TEAMS
Jason Arnott (Lady Sean Gauthier, FriesenGrl)
---
Martin Brodeur (Lady Sean Gauthier, IvaskaFan21, Ice Mistress Deadmarsh)
---
Serge Brylin (Tommy Girl)
---
Brendan Morrison (Lady Sean Gauthier, Primeau's Girl, IvaskaFan21)
---
Scott Niedermayer (Friesen's Girl, IvaskaFan21)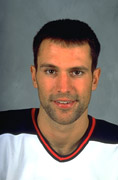 TEAM RATING
B+ Not much to say about this team. They can take care of themselves! ;o)

B- Once again, a Niedermayer boy saves the day.

F None of them are that hot.

A They are such cute little devils.

B-

B+

B Like the Panthers, the Devils have a lot of young and beautiful talent.
---
Average Rating: B