NAME: Jennifer
AGE: ?
CURRENTLY LIVES: USA
For you, what makes a hockey player cute? I don't know what makes a player cute for me. There are just certain guys that I see that I like. It isn't one specific thing about them.
If you could spend the day with ONE player, who would it be and why? Um duh, patrick. Patrick because he is really good and young and hot and... I dont' know. I just do.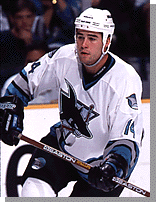 Continuing the last question, what would you guys do? :o) I think we would just hang out. We could go to great america or something like that. It doesn't really matter.
What nationality are the players you like mostly and why? Canadian because all the guys I like are canadian. And the canadian guys rule.
Who is the cutest guy in the world? (This one does not have to be a hockey player!) Patrick Marleau. So far anyway ;-)